Line-X

 Bedliner
Over 20 years of experience.
Whether it's your workhorse or your plaything, it deserves serious protection every way you use it.
At LINE-X, we know your truck is much more than a vehicle to you.
Whether it's a payload or a playload, every professional applied LINE-X spray-on bedliners is ready for the long haul, with an ultra-durable finish that will continue to look as great as the day it was sprayed.
LINE-X Spray-On Bedliners are rated #1 in customer satisfaction because they have consistently outperformed the competition.
Backed by a Lifetime Warranty, a LINE-X bedliner will not tear or rip like other "softer" spray-on liners. And it won't trap moisture and promote corrosion like most plastic drop-in bedliners.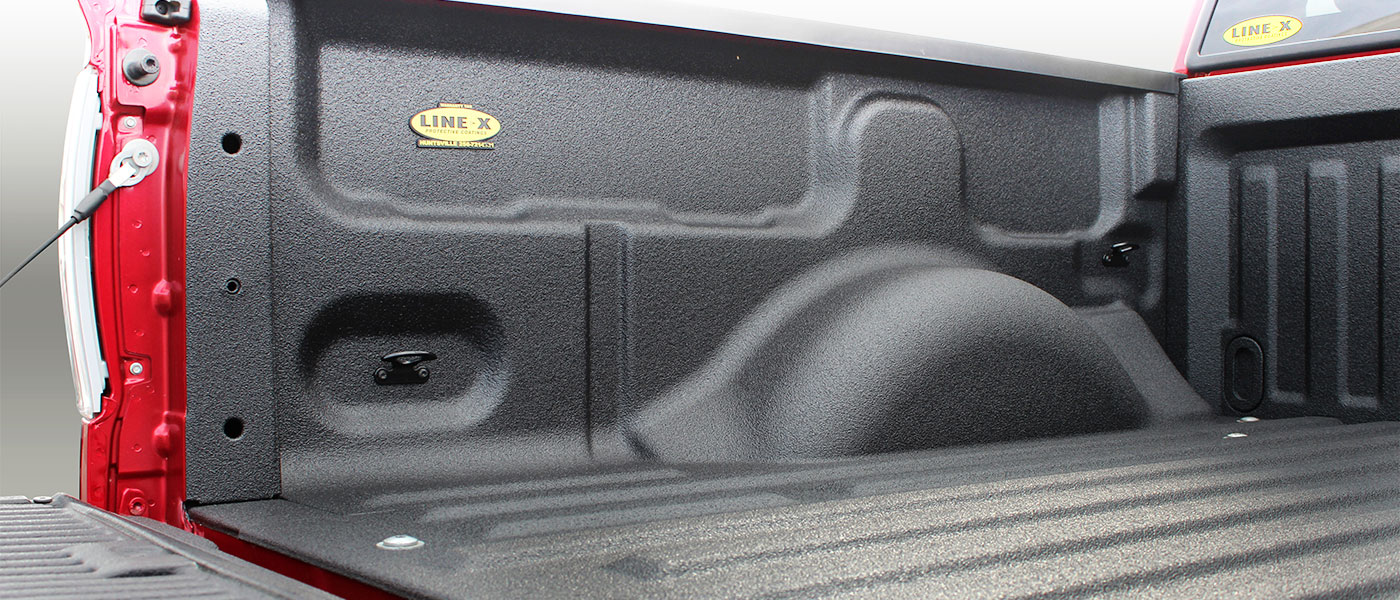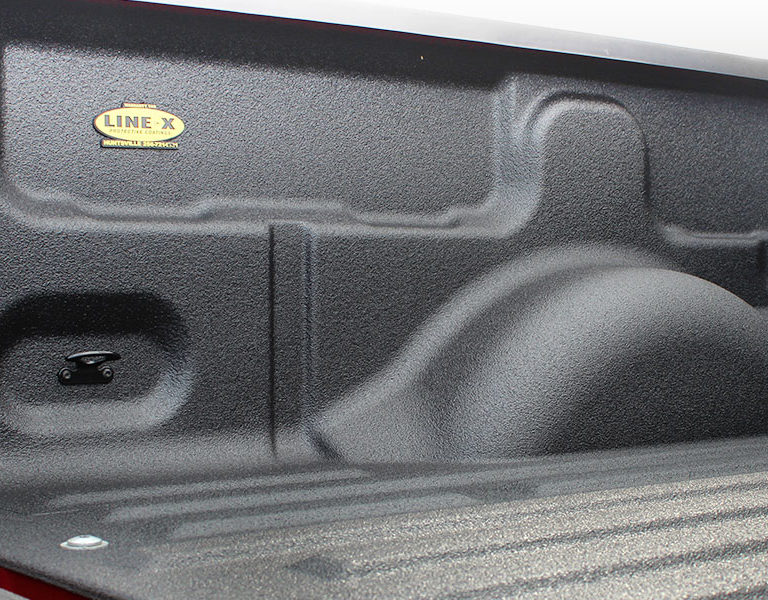 What makes Line-X So great?
---
Over 2 Million Truck Beds Protected
With more than two million trucks protected to-date, LINE-X Spray-On Bedliners are tested for strength and protection both in the laboratory and in harsh, real-world conditions to ensure the highest levels of durability. If you want superior protection that's guaranteed, you want LINE-X.
Guaranteed Protection In About Two Hours
Unlike other spray-on bedliners, a standard LINE-X treatment is professionally applied at high pressure and high temperatures. The surface dries in just 3 to 5 seconds, preventing runs or puddling. With a pre-scheduled appointment, the total job (including bed preparation, masking and spraying) takes about two hours. Your truck is ready immediately, but please wait a day for rugged use.
Forms a Permanent Bond, Molds Precisely to Every Contour
Bonding permanently to your truck bed, a LINE-X Spray-On Bedliner molds around every contour for a factory-like finish, creating a weatherproof and watertight seal to prevent rust and corrosion.
Accessories Fit Great!
No lost cargo space! Bed lids, camper shells, 5th wheel hitches, tie-downs, utility boxes, etc. all fit great because LINE-X molds to the precise surface of your truck bed. Typically, any inspection plates or tie-downs are removed, sprayed if applicable, and then reinstalled.
Protects – and Enhances – Resale Value
A LINE-X Spray-On Bedliner is a great way for vehicle dealers or private owners to add resale value. According to the latest NADA Official Used Car Appraisal Guide*, a LINE-X Spray-On Bedliner can add almost $200 in value to your truck at sale or trade-in time.
*National Auto Dealers Association, 2006 edition.
High Quality, Consistent Performance
LINE-X develops its own material under rigorous quality controls to guarantee a consistent, durable application every time. LINE-X chemists, using our state-of-the-art laboratory, are continually developing ultra-durable coatings designed for extreme impact, corrosion and abrasion conditions in hundreds of commercial and industrial situations.
Serious Impact Protection, Quieter Ride
The thick, textured impact absorbing surface of every LINE-X Spray-On Bedliner not only protects cargo from shifting, but dampens road noise and vibration common in most pickup trucks.
Plus, no rattling around or chance of a "fly out" like some drop-in bedliners!
Environmentally Friendly!
A standard LINE-X Spray-On Bedliner is environmentally friendly because its solvent-free material contains no harmful VOCs or CFCs.
Resistant to Most Common Chemicals
LINE-X Spray-On Bedliners are engineered to handle leaks or spills of most kinds, including pool chlorine, gasoline or diesel fuel, paints, bleaches, organic solvents, fertilizers and much more!
Yes… It's Repairable!
Even if the most unlikely mishap occurs, your LINE-X dealer can seamlessly repair your Line-X Bedliner–impossible with a drop-in liner.